In today's modern world where technology plays a big role in every part of our lives, we have a huge amount of choice in all kinds of devices that make it easier for us. One of the latest tendencies in the technology world is the smartwatch. For the fans of the classic watches, this idea might sound strange and even useless but smartwatches do much more than show the time. The numerous functions this little but useful device offers will quickly draw your attention. And if you have already decided that you want such a watch but you are confused by the amount of choice on the market, this article will help you make your decision.
 
Think about your priorities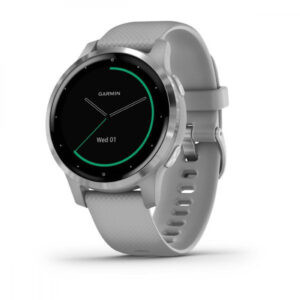 GARMIN VÍVOACTIVE 4/4S SMARTWATCH
As we already mentioned, different smartwatches offer different features. From accepting calls and receiving messages to making payments with just one touch. Others count the number of steps you take, they monitor the quality of your sleep and your pulse. Watches like Apple Watch, for example, have all these features. Besides that, you can connect many of the applications on your iPhone and even take pictures with the in-built camera. Most smartwatches you need to connect your phone via Bluetooth. This way you can access almost everything on your phone with just one touch and at a convenient spot like your wrist. This is why the first step you need to make is deciding what you want to use your watch for. 
Pay attention to the operational system 
Due to the fact that most smartwatches are linked to your phone, you need to mind the operational system. If the two devices do not use the same system, then many of the features on your watch will not work optimally. No matter if your phone works with Android, iOS, Windows, or another system, you need to keep this in mind when buying a watch. As it is with phones, watches that use Android allow for a wider range of options and applications, while those with iOs are compatible only with iPhone. Pay attention not only to the brand but also to the phone's compatibility to make sure it will be supported by your watch. 
Water resistance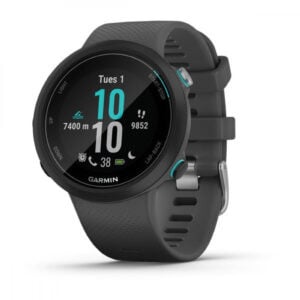 There is no doubt that using your watch underwater is a big plus. Not only we will be calm in case our accessory accidentally gets wet, but we could also track our burned calories and our pulse while we swim. If our watch has a camera too, we could also take everyone's favorite underwater shots. Brands like Garmin which offer a big choice of watches suitable for sports fans, have models with which you can dive in up to 100 meters deep. Swimmers can also use applications for water workouts, track their times, and break their own records.
 
Price
The price of smartwatches widely varies. Depending on how much you would spend, you can eliminate the more expensive watches. If you are not sure that you will use your watch frequently or if you just want to see if this is the right accessory for you, maybe it is not wise to invest a big amount of money right away. On the other hand, there are brands like Xiaomi and Huawei which offer a big amount of functions and features for affordable prices. And if you are skeptical of the smartphones by Chinese brands, you should think again. These brands quickly enter the market being known for their high quality. The truth is that the work hand in the Eastern country is cheaper. However, these brands work hard to compete with the world-known Samsung and Apple and to offer the same quality as them.
 
Battery life
Just like smartphones, different smartwatches have different battery life. Some models can last up to two weeks without charging and other only 2-3 days. Of course, that depends on the time you spend using its features, as well as the accessory's display. Watches with AMOLED and LCD displays are among those with the shortest battery life. The model Vivoactive by Garmin is among one of the most long-lasting watches. If you have this model, you can charge it once every 21 days.   
Design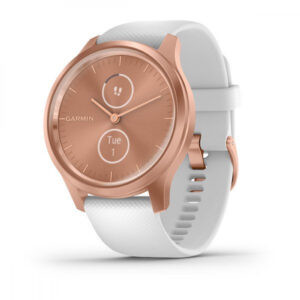 GARMIN VÍVOMOVE STYLE SMARTWATCH
Before buying a smartwatch, think about its design and style. Don't forget that before anything else, this is an accessory, and accessories are made to make you feel confident, stylish, and content. Take a look at the different models and you will quickly see that you can choose between oval and round shapes, minimalistic ones, or ones that remind the classic watches. Just as the regular watches, the size of the dial is different so you should choose the one you are confident with. Besides that, smartwatches offer a wide range of colors, and a lot of models have the option of changing the strap. Most often it is made of silicon which is the best for an active lifestyle and for people who love the sport. However, you can put a metal or even a leather strap if you'd like.
 
Smartwatches can be a huge advantage in the life of every person. If you are an active person who loves new technologies and the interesting features you can easily access, then you will quickly fall in love with this accessory. And the great thing about today's world is that these watches are no longer a luxury but almost everyone can afford them. Stylish, light, modern, and easy to use, they are perfect for people with all kinds of tastes and of all ages. With their numerous applications and challenges for sport and fitness, these types of watches will inspire you and motivate you to be the most active version of yourself and to feel healthy and great. And this is probably the best advantage of the smartwatches.